Creekwood Village Resort offers the angler access to some of the greatest trout fishing on the east coast. We have stocked ponds, and access to Jonathan Creek, A North Carolina Heritage Trout Water. If you would like more of a challenge, the Great Smoky Mountains National Park is within minutes and the famed stocked creeks and rivers of Cherokee Indian Reservation are also less than 30 minutes away.
Mountain Heritage Trout Waters
The Mountain Heritage Trout Waters program is a cooperative effort between the N.C. Wildlife Resources Commission and local governments to encourage trout fishing as a heritage tourism activity in western North Carolina cities that are designated as a "Mountain Heritage Trout Water City." Currently, five cities are enrolled in the program. Each of these cities provides public access to a trout stream that runs through or is adjacent to the city. North Carolina residents and non-residents who want to fish in a stream that is designated as a Mountain Heritage Trout Water may purchase a 3-day license for $5. The license is valid only for waters that are designated as Mountain Heritage Trout Waters. Anglers with the appropriate fishing license and trout privilege license can fish in Mountain Heritage Trout Waters without a Mountain Heritage Trout Waters license. The Commission offers two quick and easy ways to purchase a Mountain Heritage Trout
Fishing license using a credit card:
• Call 1(888) 248-6834. Phone lines are open from 8 a.m.-5 p.m., Monday-Friday. From May to September, phone lines are open from 8 a.m.-5 p.m., Monday-Sunday.
Important note: The Mountain Heritage Trout Water license can only be purchased online or by calling the toll-free number above. Wildlife Service Agents do not sell this license. Click here to download a printable map and regulations of the stream section that is designated as a Mountain Heritage Trout Water in that location. To fish for trout in waters that are not designated as "Mountain Heritage Trout Waters," anglers age 16 and over must have a valid fishing license and a trout privilege license. Click here to purchase a regular fishing license and stamp.
Trout Fishing Tips
Fly-fishing is a great sport but it's more than a long pole, a fake bug and a casual cast into the water. Fly-fishing takes time and practice. Knowing what lure to fish, as well as when and where to fish is as important as landing a cast in just the right spot with just the right touch. Download a printable "Tips for the Novice Fly-Fisher" card here.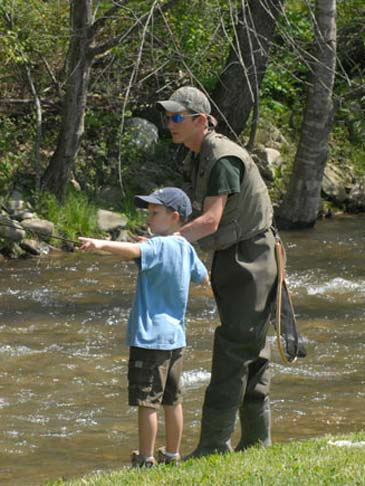 No rod and reel? No problem!
Anglers can borrow a rod and reel free of charge for the day. The loaner rods and reels are provided by city and town governments and the N.C. Wildlife Resources Commission through the agency's Mountain Heritage Trout Waters Tackle Loaner Program. This program operates like a library. Anglers of all ages register at participating Mountain Heritage Trout Waters program-tackle-loaner sites to receive a tackle loaner ID card, which allows them to check out a rod and reel for the day. Anglers under age 18 must have a parent or guardian to complete the registration form. Anglers receive a free one-time mini-tackle box containing assorted lures the first time they register in the program. One tackle box per participant is permitted. Loaner rods and reels are available for a one-day loan and must be returned to the participating loaner site by the end of the business day.