Great Smoky Mountains National Park
The Great Smoky Mountains National Park borders Maggie Valley to the north. One of the most visited park in the country behind only the Blue Ridge Parkway and Yellowstone, access is limited by only a few roads. The best way to see the parks wonders is to get out the hiking shoes and set up on a trail. The best know trail is the Appalachian Trail which runs all the way through the park from North to south and makes up some of the most inclined parts of the trail. Access to the "AT" can be found at its highest point at Clingmans Dome. Just remember that at its highest point in the park, the trail goes downhill in both directions, meaning that a short hikes second half will be uphill.
Mountain Heritage Farm Museum
At the southern entrance to the park is the Oconaluftee Welcome Center and just beyond is the Mountain Heritage Farm Museum consisting of multiple buildings from before the park was created, giving an accurate portrayal of what life was like back then.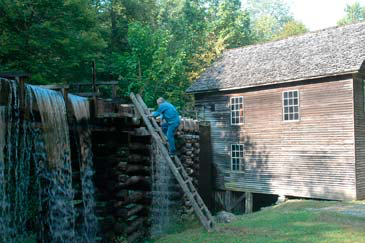 Mingus Mill
The mill is a great stop off the main road. Open most days the mill is a working grist mill that once provided need services to the local people.